Up to the Mark impresionante en el Turf Classic G1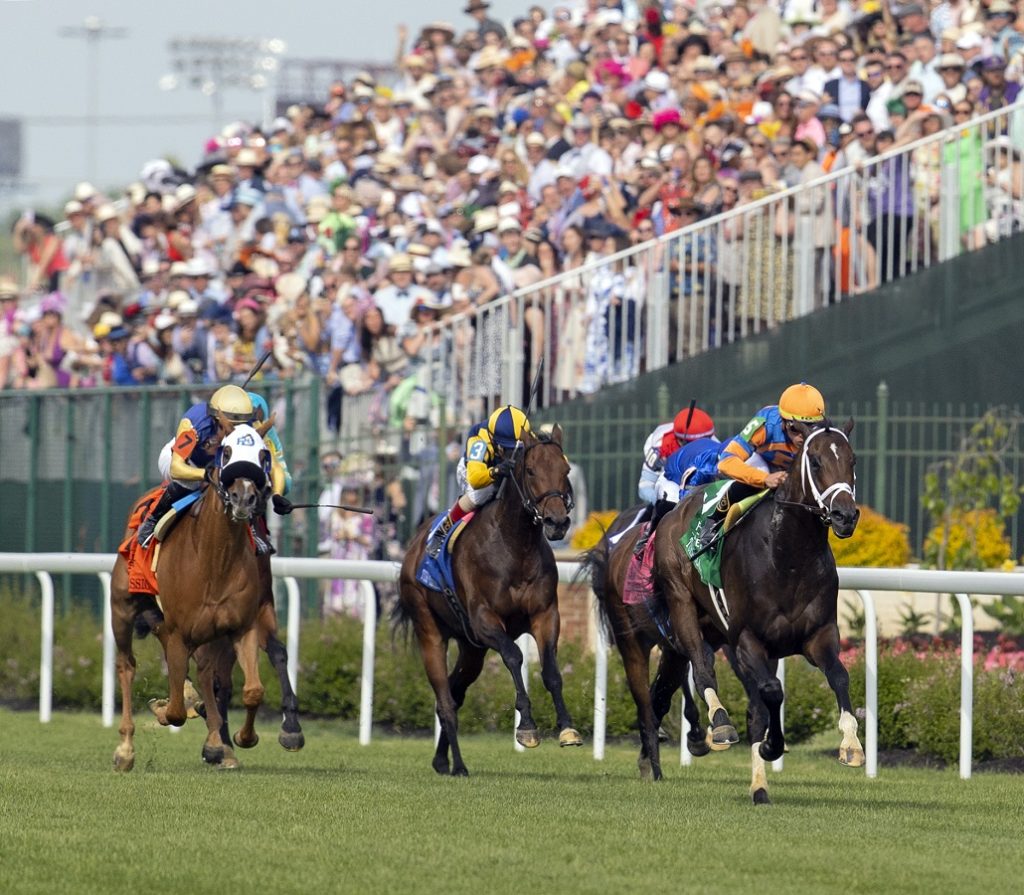 Up to the Mark (19, Not This Time en Belle's Finale por Ghostzapper) demostró que su carrera anterior no fue casualidad y que es un ejemplar que hay que tomar en serio para el resto de la temporada en grama al llevarse la victoria en el Turf Classic G1 ($1,000,000) disputado en Churchill Downs en distancia de 1 1/8 millas.
Up to the Mark es un caballo que se ha transformado desde que lo empezaron a correr en grama. En sus primeras dos incursiones sobre esa superficie salió victorioso, y en su anterior, la Maker's Mark Mile G1 ($600,000), se enfrentó a Chez Pierre (Mehmas) y Modern Games (Dubawi), un grupo que en el papel era muy fuerte para él y aun así finalizó tercero, perdiendo el segundo con Modern Games por apenas un pescuezo de diferencia. Ahora ante un lote no tan fuerte como el anterior, Up to the Mark tomó ventaja para visitar el círculo de ganadores.
Bye Bye Melvin (Uncle Mo), que reaparecía luego de 6 meses sin correr, fue el que salió a marcar la pauta, seguido muy de cerca por Santín (Distorted Humor), ejemplar que buscaba repetir en el Turf Classic, ya que él fue el ganador de la edición anterior. Los parciales de la carrera fueron 23.91, 48.01, 1:11.65 y 1:35.44. Mientras, el jinete Irad Ortiz colocó a Up to the Mark en posiciones intermedias, esperando el momento justo para hacerlo correr. 
::: Disfruta todos los días de la promoción que te ofrece el Daily Racing Form, y recibe gratis un programa de carreras con la compra de otra programación de ese mismo día :::
Al entrar en la recta final, Santin tomó la punta, pero el entrenado por Todd Pletcher ya venía con un remate incontenible, tomó el liderato rápidamente y se impuso por 3 cuerpos. Por su parte Hong Kong Harry (Es Que Love) ensayó un remate tardío que no fue suficiente y tuvo que conformarse con el segundo lugar. El marcador lo completaron: Spooky Channel (English Channel), Ocean Atlantique (American Pharoah) y Santin.
Este triunfo se podría decir que sirvió de consolación para el Repole Stable and St. Elias Stable, propietarios de Up to the Mark, que en la mañana del sábado vieron como el sueño de ganar el Kentucky Derby se convirtió en pesadilla luego de que el veterinario de la Comisión de Carreras de Churchill Downs decidiera retirar a Forte del magno evento, siendo el principal favorito. Este fue el cuarto triunfo para Up to the Mark que llegó a $829,550 en dinero producido. 
Nota de Mike Mederos