Sister Lou Ann se lució en el One Dreamer Stakes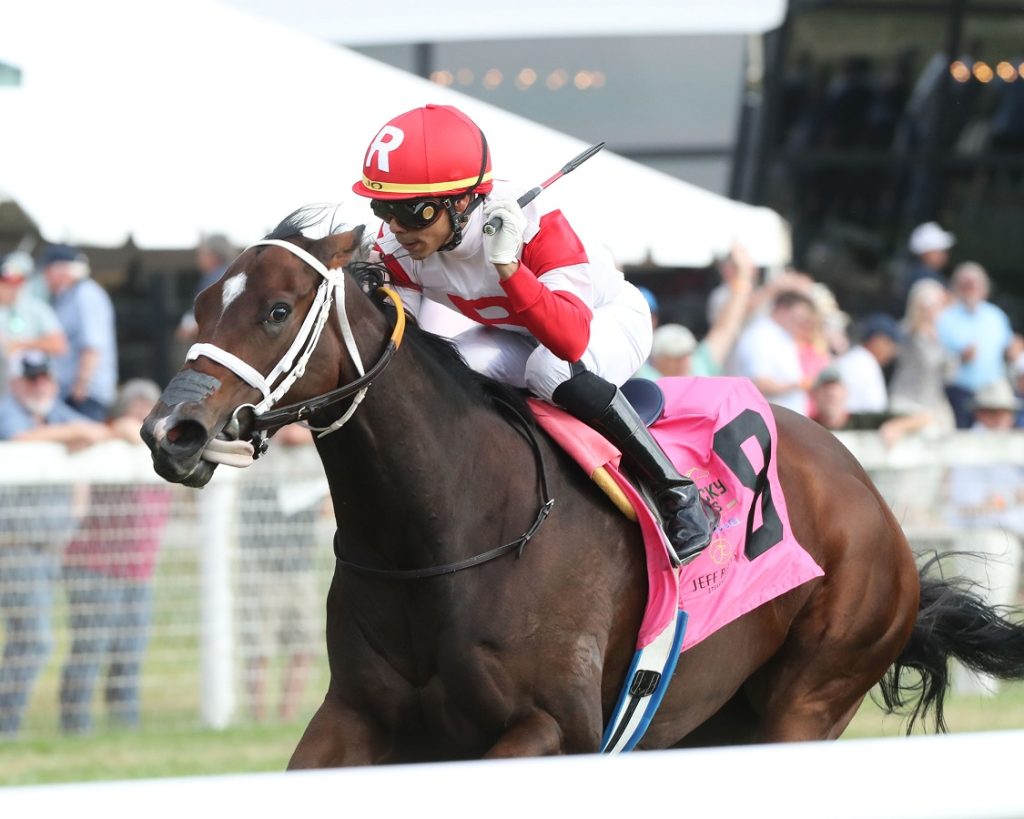 La yegua Sister Lou Ann, hija de Frosted, alcanzó la segunda victoria selectiva de su carrera pistera en el marco del One Dreamer Stakes de $500,000, evento central de la jornada de este jueves 7 de septiembre, cuarto día del meeting de Kentucky Downs de 2023. Dicha competencia, exclusiva para yeguas de tres años y mayores, se disputó en 1 milla y 70 yardas con un total de 7 competidoras en acción. Importantes cotizadas en el Morning Line como Sinfiltre y Haughty fueron retiradas de una nómina inicial de 9 corredoras.
La pupila de Kenneth Ramsey, mismo propietario del abuelo materno, Kitten's Joy a través de la yegua Granny Mc's Kitten, controló el paso de la carrera impuesto por For the Flag (Uncle Mo) a escasos cuerpos de la misma, y fue llamada a correr por José Luis Ortiz en la recta final para rebasar a la mencionada For the Flag, a Present Moment (Ire) y posteriormente avanzar en franca ganancia hacia la meta.
::: Duplica tu primer depósito de $250 + $10 de bono al abrir tu cuenta como nuevo cliente en DRF Bets utilizando el código DRFESPANOL. Haz clic en este enlace para mayor información :::
For the Flag y Sister Lou Ann, tal como se esperaba, fueron las más adelantadas en el tramo inicial de competencia. Present Moment se ubicaba tercera junto a Kate's Kingdom, Jubilee Bridge (Flintshire (GB)) corría quinta, dejando en el fondo a Candy Light (Candy Ride (Arg)) y Viareggio (Ire), esta última cerró como principal favorita con cotización de 2-1. Los parciales fueron bastante cómodos; 24.38 (400 metros), 49.90 (media milla) y 1:15.55 para los 6 furlongs.
Tras un paso pedestre de carrera, For the Flag ingresó en la recta final un tanto abierta con Sister Lou Ann a su costado derecho; esto favoreció a Present Moment (Ire) que se "colaba" por la parte interna y asumió el liderato transitoriamente. Poco tiempo después Sister Lou Ann y For the Flag se distanciaron nuevamente del resto para batallar durante el furlong final; la de Saffie Joseph, Jr. tenía una aceleración mayor, lo cual le permitía adelantar a la tordilla de James Toner para llevarse con claridad (1 1/2 cuerpos) la victoria. Jubilee Bridge finalizó a 2 3/4 cuerpos en el tercer peldaño, medio cuerpo delante de Candy Light. Viareggio (Ire), en una actuación muy gris, culminó quinta a 4 1/4 cuerpos. Los últimos lugares fueron para Present Moment (Ire) y Kate's Kingdom.
El tiempo final fue 1:44.63 con remate de 4.18 para las últimas 70 yardas. La milla fue cubierta en 1:40.45.
Sister Lou Ann ($10.46 por ganador), criada en Kentucky por sus propietarios, ahora tiene foja de 3 victorias en 11 salidas y sus ganancias ahora superan los $445,000.
::: Disfruta todos los días de la promoción que te ofrece el Daily Racing Form, y recibe gratis un programa de carreras con la compra de otra programación de ese mismo día :::