Hong Kong Harry fue el mejor en el City of Hope Mile G2T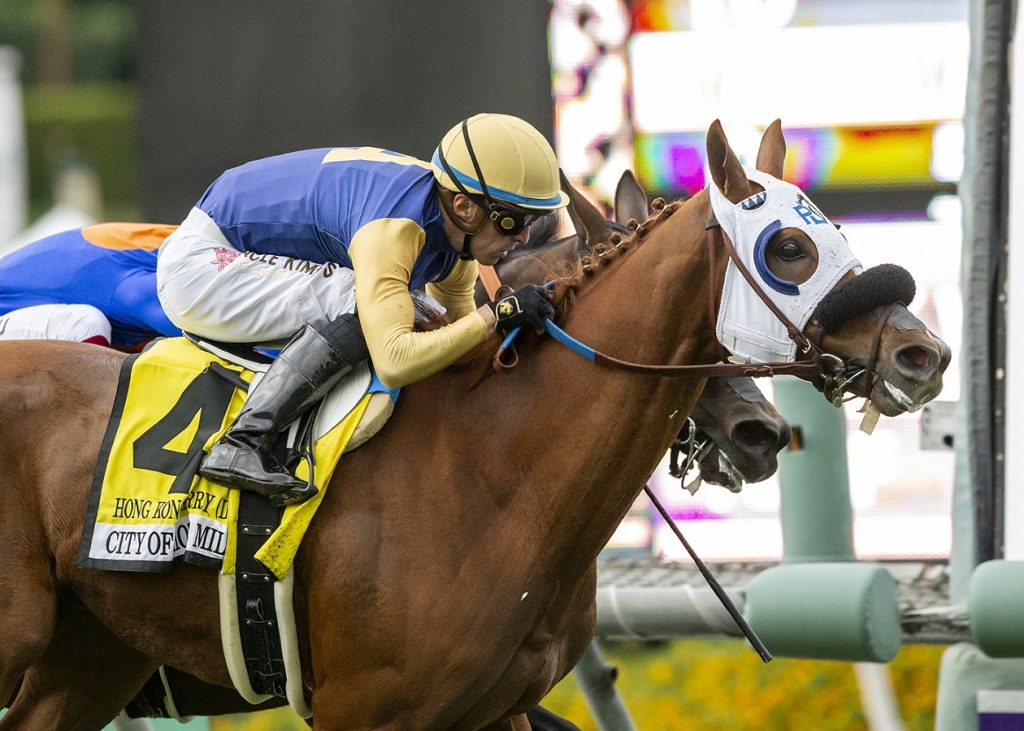 Luego de correr en posiciones intermedias durante buena parte del trayecto, Hong Kong Harry (Ire) (Es Que Love (Ire)) se lanzó en firme por segunda línea, y sin esfuerzos innecesarios obtuvo el triunfo en el City of Hope Mile G2T, $200,000, una prueba de una milla en pista de grama para ejemplares de tres o más años que cerró el atractivo programa sabatino en Santa Anita Park. Juan Hernandez estuvo impecable a bordo del pupilo de Phil D'Amato que cerró como el gran favorito con proporción de 1-1 en taquilla.
Nueve caballos tomaron parte en la carrera, y desde el brinco inicial Astronomer (Air Force Blue) salió a marcar los parciales, colocando un cuerpo de ventaja sobre Il Bellator (Shackleford) y War At Sea (War Front). Cerca de estos tres se ubicó Flavius (War Front) a la par de Hit the Road (More Than Ready). El eventual ganador iba en el sexto lugar, su jinete ahorrando terreno junto al riel, mientras que Cathkin Peak (Ire) (Alhebayeb (Ire)), Twist (Fr) (Pivotal (GB)) e Irideo (Arg) (Easing Along) quedaban en los últimos lugares. Astronomer registró 23.51 para el primer cuarto de milla y 47.67 para la media milla, un tren muy cómodo de carrera.
::: Duplica tu primer depósito de $250 + $10 de bono al abrir tu cuenta como nuevo cliente en DRF Bets utilizando el código DRFESPANOL. Haz clic en este enlace para mayor información :::
Efectivamente, ese ritmo permitió que el puntero se mantuviera al frente en la curva lejana. amenazando con hilvanar la sprintada y dejando 1:10.91 para los seis furlongs. El primero que atacó, aunque sin efectividad, fue War at Sea. Sin embargo, a la altura del codo final el verdadero enemigo de Astronomer era precisamente Hong Kong Harry, que se abrió paso por segunda línea y arremetió en su contra. Astronomer opuso tenaz resistencia y no se entregó jamás. Su mejor esfuerzo fue notable, pero no suficiente para impedir la victoria del gran favorito, que lo igualó y luego lo desplazó a unos 100 metros para la llegada. Hernandez se limitó a arrear a Hong Kong Harry, que ganó con un "medido" medio cuerpo de ventaja sobre un digno rival. Twist vino de atrás para lograr el tercero, seguido por Hit the Road y Cathkin Peak. Irideo, War At Sea, Il Bellator y Flavius completaron el orden de llegada. El tiempo final fue de 1:33.77 para la milla.
Luego de tres derrotas consecutivas, Hong Kong Harry se reivindicó en un buen momento, obteniendo así su décima victoria en 17 salidas, 10 de ellas en Norteamérica. Criado en Irlanda por Amarath Business Management, el seisañero defiende los intereses de Scott Anastasi, Jimmy Ukegawa y Tony Valazza, elevando sus haberes a $875,097.
::: Disfruta todos los días de la promoción que te ofrece el Daily Racing Form, y recibe gratis un programa de carreras con la compra de otra programación de ese mismo día :::