Este domingo se disputa el Prix de l'Arc de Triomphe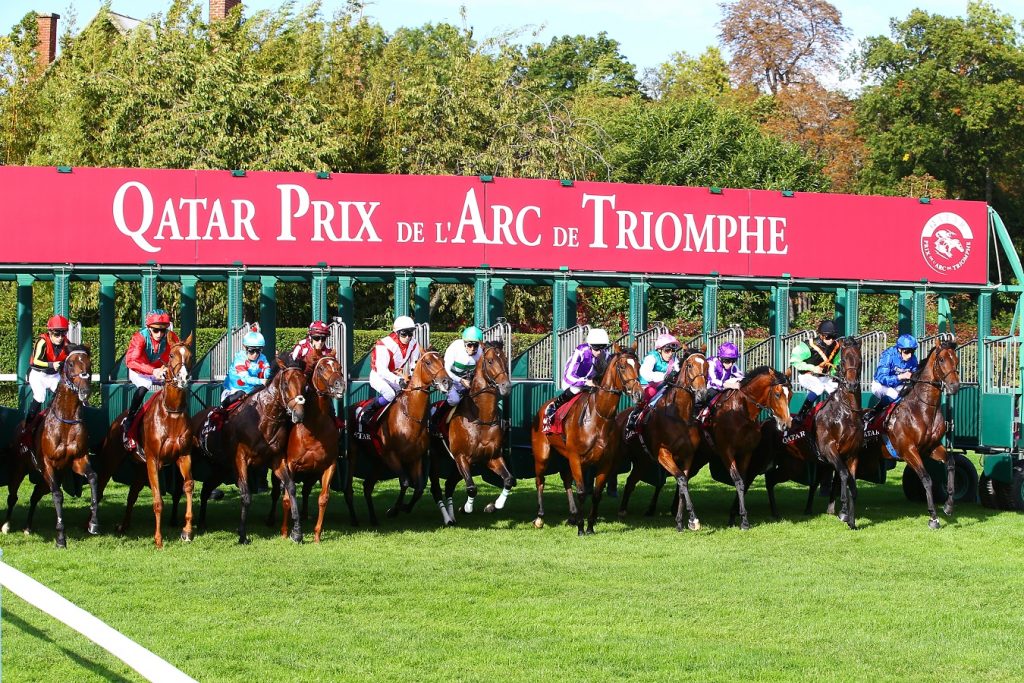 Una de las competencias más importantes del planeta se celebrará este domingo 1 de octubre, cuando en el mítico escenario de Longchamp (Paris, Francia) se dispute una nueva versión del Prix de l'Arc de Triomphe Gr.1, carrera de milla y media para ejemplares de tres o más años que data desde 1920 y que este año tendrá premios a repartir de €5,000,000, de los cuales €2,857,000 corresponden al propietario del ejemplar ganador. Un total de quince aspirantes medirán fuerzas en una pista que, de acuerdo a las condiciones climáticas, pudiera estar muy húmeda (soft).
Uno de los posibles favoritos en las apuestas es el invicto en cinco actuaciones Ace Impact (Ire) (Cracksman (GB)), un tresañero que entrena Jean-Claude Rouget y que ya tiene en su haber el prestigioso Prix du Jockey Club Gr.1 del pasado 4 de junio. Luego de un descanso, Ace Impact reapareció ganando el Prix Guillaume de Ornano Gr.2 en Deauville, quedando listo para el importante compromiso. Será conducido por su jinete habitual, Cristian Demuro.
El japonés Continuous (Heart's Cry (Jpn)) fue inscrito mediante un pago suplementario, luego de su resonante triunfo en el St. Leger Gr.1 disputado en Doncaster el pasado 16 de septiembre. Entrenado por Aidan O'Brien y defensor de los colores de Coolmore, Continuous ha mejorado con cada actuación luego de haber sido ampliamente derrotado por Ace Impact en el referido Prix du Jockey Club Gr.1. Ryan Moore estará sobre sus lomos este domingo.
Hukum (Ire) (Sea The Stars (Ire)), seisañero hermano completo de Baaeed, es uno que atraviesa muy buena forma reciente, con dos victorias consecutivas este año, primero en el Brigadier Gerard Stakes Gr.3 en Sandown, reapareciendo desde su victoria en la Coronation Cup Gr.1 de junio de 2022 en Epsom Downs; y más recientemente en el King George VI and Queen Elizabeth Qipco Stakes Gr.1 del pasado 29 de julio en Ascot. El defensor de las sedas de Shadwell que entrena Owen Burrows será conducido por Jim Crowley.
::: Duplica tu primer depósito de $250 + $10 de bono al abrir tu cuenta como nuevo cliente en DRF Bets utilizando el código DRFESPANOL. Haz clic en este enlace para mayor información :::
Westover (GB) (Frankel (GB)) viene de perder en cerrado final con Hukum en el King George VI and Queen Elizabeth Qipco Stakes Gr.1 antes citado. Sexto en el Arc del año pasado, el pupilo de Ralph Beckett intentará nuevamente la exigente competencia, con el aval de su madurez y mayor experiencia. El cuatroañero de Juddmonte será monta de Rob Hornby.
Frankie Dettori, el jinete mayor ganador del Prix de l'Arc de Triomphe con seis triunfos, estará a bordo de Free Wind (Ire) (Galileo (Ire)), una cincoañera del establo de John & Thady Gosden que ha ganado seis de sus once presentaciones. Aunque el compromiso parece muy exigente, su buena condición y la experticia de Dettori pudieran marcar la diferencia.
Japón estará representado por la cincoañera Through Seven Seas (Jpn) (Dream Journey (Jpn)), una pupila de Tomohito Ozeki que será conducida por el estelar Christophe Lemaire y que llega a esta carrera precedida de un buen segundo a solo pescuezo del formidable Equinox (Jpn) (Kitasan Black (Jpn)) en el Takarazuka Kinen G1 del pasado 25 de junio en Hanshin.
Feed The Flame (GB) (Kingman (GB)) es un tresañero ganador de tres de sus cinco actuaciones, entre ellas un sólido triunfo en el Grand Prix de Paris Gr.1, disputado en Longchamp el pasado 14 de julio. Christophe Soumillon será el encargado de conducir al entrenado por P Bary.
El resto de la nómina del Prix de l'Arc de Triomphe lo componen Sisfahan (Fr) (Isfahan (Ger)); Haya Zark (Fr) (Zarak (Fr)); Onesto (Ire) (Frankel (GB)); Simca Mille (Ire) (Tamayuz (GB)); Bay Bridge (GB) (New Bay (GB)); Place Du Carrousel (Ire) (Lope De Vega (Ire)); Mr Hollywood (Ire) (Iquitos (Ger)); y Fantastic Moon (Ger) (Sea The Moon (Ger)). La emblemática competencia está pautada para las 10:05 AM (Hora del Este).
::: Disfruta todos los días de la promoción que te ofrece el Daily Racing Form, y recibe gratis un programa de carreras con la compra de otra programación de ese mismo día :::