Carson's Run estuvo incontenible en el Summer G1T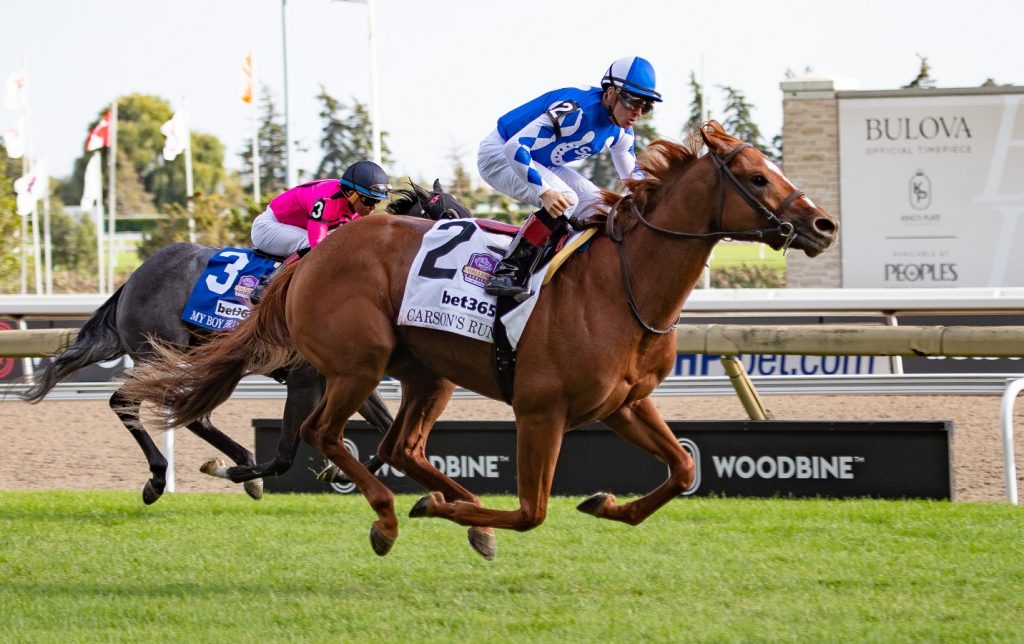 Carson's Run (Cupid) en un llamativo y sostenido remate desde el fondo del pelotón, fue rebasando rivales desde el giro de la curva final y en la recta decisiva dio cuenta del buen potro, y puntero hasta ese momento, My Boy Prince (Cairo Prince), para llevarse el Summer Stakes (G1T, C$500,000), competencia exclusiva para potros de dos años en distancia de una milla sobre la pista E.P. Taylor este sábado 16 de septiembre, misma fecha de la tradicional Woodbine Mile G1T del óvalo canadiense ubicado en Toronto. Además, el Summer Stakes forma parte del programa Win And You're In de Breeders' Cup, por lo que el pupilo de Christophe Clement, tras el triunfo, obtuvo un cupo para la venidera Breeders' Cup Juvenile Turf del viernes 3 de noviembre en Santa Anita Park. Un total 9 ejemplares vieron acción.
La prueba contó con la deserción de dos potrancas, Bolt Enoree y Golden Canary, pero la novedad más importante previo al desarrollo, fue la demora de más de diez minutos debido a una reparación de herradura para el favorito principal My Boy Prince, consentido de Mark Casse que compitió dignamente señalando el camino por unos 7 furlongs, pero finalmente tuvo que sucumbir a la atropellada del invasor de Nueva York.
:: Duplica tu primer depósito de $250 + $10 de bono al abrir tu cuenta como nuevo cliente en DRF Bets utilizando el código DRFESPANOL. Haz clic en este enlace para mayor información :::
My Boy Prince salió desde el vamos a buscar la delantera y fue perseguido por Western Whirl (Twirling Candy) y Bucyk (Speightstown). La potranca Airosa (Uncle Mo), pegada a los palos se ubicaba en la cuarta posición, delante de King of the Track (Bolt d'Oro) y Tunechi (Outwork). El antepenúltimo y penúltimo correspondían a Souper Attentive (Kitten's Joy) y la potranca Go With Gusto (Medaglia d'Oro), dejando en el último puesto al eventual ganador, el cual corría a unos 9 largos. El puntero lideró en un tren de carrera relativamente cómodo de 23.46 y 47.10 para los dos primeros cuartos de milla.
Ya en terrenos de los 3/8 de milla finales, Dylan Davis movía a un Carson's Run que pudo seguir el tren de carrera con facilidad y que se abría bastante en el giro del codo final para tener libre espacio para ensayar su atropellada; mientras que My Boy Prince ingresaba en la recta final con firmeza y dejaba 1:11.32 para los 6 furlongs. Otra que se asomaba era la potranca Go With Gusto, que valientemente intentaba acercarse pero en menor medida.
Cerca del furlong final My Boy Prince continuaba estoicamente en la delantera, pero era incapaz de sostener el avance avasallante de Carson's Run que por líneas más externas lo rebasaba a falta de cien metros y se distanciaba con claridad hacia la meta ganando finalmente en un crono de 1:35.70 con remate final de 12.38 en el furlong final, luego de un registro de 1:23.32 para los 7/8 de milla, aún responsabilidad de My Boy Prince.
La ventaja oficial del ganador fue de 2 1/4 cuerpos. Go With Gusto, compañera de divisa y establo de My Boy Prince, completó la trifecta. Les siguieron Tunechi y Souper Attentive. Del sexto al último continuaron, Western Whirl; King of the Track, Airosa y Bucyk.
Carson's Run, hija de la yegua Hot N Hectic (Henny Hughes), venía de perder su invicto en el WIth Anticipation G3T sobre grama buena en Saratoga a manos de la potranca Gala Brand. Ahora tiene foja de 3: 2-1-0 con $314,529 producidos para sus propietarios del West Point Thoroughbreds y Steven Bouchey. Fue criado en Kentucky por el Frankfort Park Farm.
::: Disfruta todos los días de la promoción que te ofrece el Daily Racing Form, y recibe gratis un programa de carreras con la compra de otra programación de ese mismo día :::