Verstappen piloteó triunfalmente en el Elkhorn G2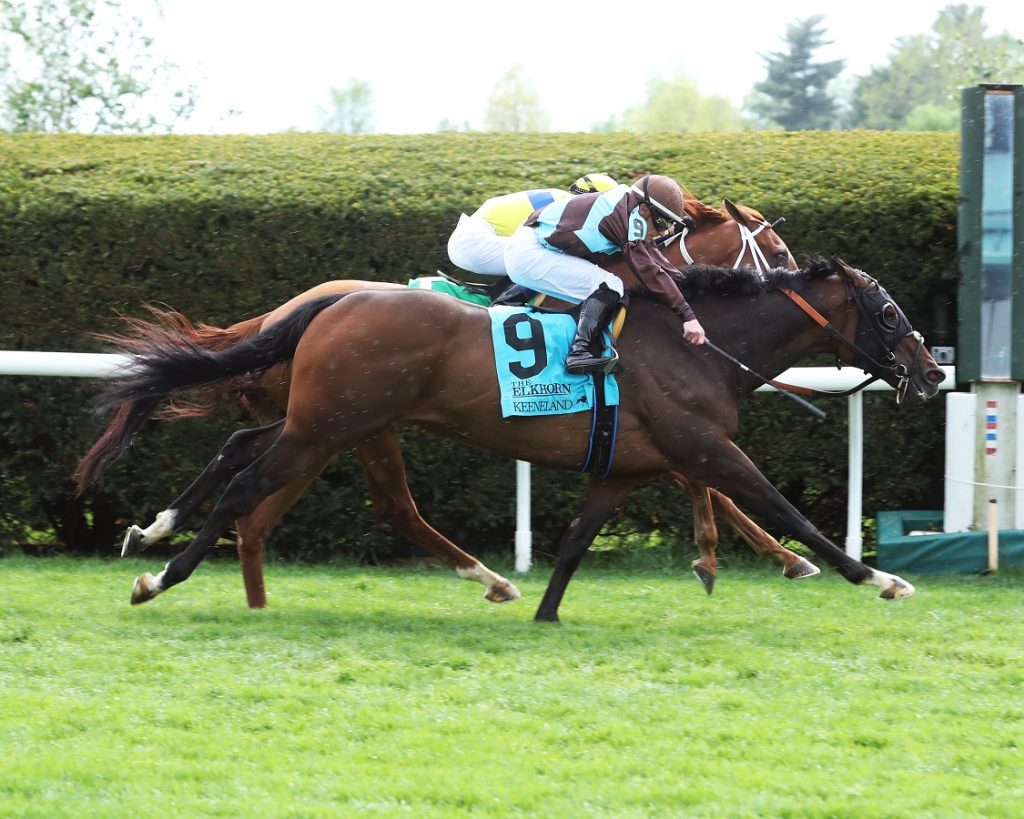 El castrado Verstappen (War Front en Andromeda Galaxy (Fr), por Peintre Celebre), cuatroañero entrenado por Brendan Walsh, avanzó por la parte central de la pista en el tramo decisivo para superar en final fotográfico al veterano Red Knight (Pure Prize), y así arrebatarle el Elkhorn Stakes G2, carrera maratónica (1 milla y media) para caballos maduros sobre la grama con un premio total a repartir de $350,000, y que fungió como evento central de la cartelera sabatina en Keeneland del 22 de abril. Ocho ejemplares vieron acción en definitiva, luego de los retiros de Shawdyshawdyshawdy y Highest Honors, este último desertó a pocos minutos de la partida por recomendación veterinaria.
Tiz the Bomb (Hit It a Bomb), a la par de Channel Maker (English Channel), se encargaron de señalar el camino con parciales relativamente cómodos de 24.68, 49.69, 1:14.93, 1:40.00 y 2:04.72. Verstappen corrió casi todo el recorrido en la penúltima posición a unos 6 o 7 largos de los punteros, adelantando únicamente, y curiosamente, a Red Knight.
::: Duplica tu primer depósito de $250 + $10 de bono al abrir tu cuenta como nuevo cliente en DRF Bets utilizando el código DRFESPANOL. Haz clic en este enlace para mayor información :::
Al entrar en la recta final Tiz the Bomb seguía luchando por el liderato con Channel Maker, y se sumaba Another Mystery (Temple City), el cual terciaba a la expectativa. Pero ya en la mitad de la recta, a un furlong aproximadamente de la meta, Verstappen, que corrió por líneas centrales todo el recorrido, se hacía presente junto a Red Knight para ambos protagonizar un emocionante conflicto por la victoria; sacando la mejor parte por fuera el conducido por Declan Cannon, el cual dominó por apenas cabeza al conducido por Gerardo Corrales en un tiempo final de 2:29.28. A un poco más de 2 cuerpos Another Mystery cerraba tercero, por delante de Channel Maker y Tiz the Bomb que completaron el marcador de honor. Del sexto al último finalizaron Howe Street, Rising Empire y Value Engineering, el cual nunca justificó su presencia.
Verstappen sorprendió con un dividendo de $34.30. Esta fue su primera victoria de selectiva y de grado. Su nuevo récord es 12 / 4-3-2; tenía una racha de 2 victorias con cifras de velocidad ascendentes durante el invierno, seguidilla que fue rota al caer segundo de Wolfie's Dynaghost en el Kentucky Cup Classic ($300,000) hace poco menos de un mes en la pista sintética de Turfway Park; por tanto, esta es su tercera victoria en las últimas 4 salidas y supera con este éxito los $440,000 en premios. Fue adquirido en las subastas de Keeneland de septiembre de 2020 por $325,000. Fue criado en Frank Hutchinson y es propiedad de Andrew Farm, For the People Racing Stable LLC y Windmill Manor Farm.