Swayin to and Fro ganó en gran final el Barbara Fritchie Stakes G3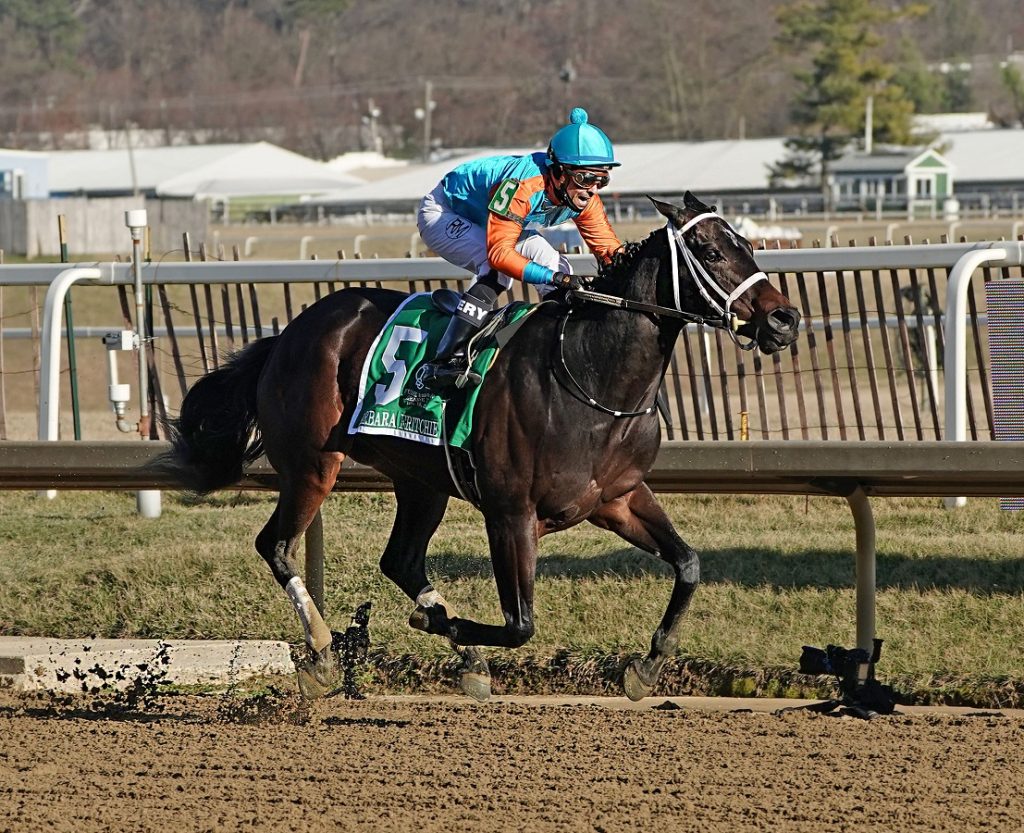 Emocionante fue el resultado de la octava carrera de este sábado 18 de febrero en la pista de Laurel Park. La yegua de cuatro años Swayin to and Fro (Straight Talking) montada por el venezolano Richard Monterrey, pudo contener el ataque de Fille d'Esprit (Great Notion) en lo que fue la escena del Barbara Fritchie Stakes (G3), clásico disputado a 7 furlongs en arena con $250,000 por repartir, evento reservado para toda yegua de cuatro años y más edad.
Swayin to and Fro es una entrenada por Mario Serey Jr. para los colores del Baxter Racing Stable. Con una amplia campaña de 16 actuaciones, ha hecho la mayoría de sus carreras en esta pista de Laurel Park. Su registro se coloca ahora en 9 primeros, 1 y segundo y 2 terceros, produciendo un poco más de $476,000.
Richard Monterrey puso desde temprano a su conducida en carrera. La partida de este clásico fue con Liscolvin (Speighstown) dominando el primer cuarto de milla con tiempo de 22.44. Swayin to and Fro salió a perseguirla pero cerca del poste de los 800 metros comenzó a disputarle la punta a Liscolvin. Pass the Champagne (Flatter), que había partido con algo de lentitud, su jockey la fue recuperando y después de iniciar en el sexto lugar la hizo pasar de viaje al tercero para buscar las punteras.
::: Duplica tu primer depósito de $250 + $10 de bono al abrir tu cuenta como nuevo cliente en DRF Bets utilizando el código DRFESPANOL. Haz clic en este enlace para mayor información :::
El segundo fraccional de 45.20 para los 800 metros, presentaba la lucha en pleno apogeo entre Swayin to and Fro y Liscolvin, mientras que en el tercero a medio cuerpo seguía Pass the Champagne. Detrás de ellas había otra pelea por el cuarto lugar que involucraba a Moody Woman (Gormley), Prodigy Doll (Shanghai Bobby) y Union Lake (Speighster).
En el momento de entrar a la tierra derecha para disputar los últimos 350 metros, Swayin to and Fro asumió el comando, Pass the Champagne estaba segunda y por fuera daba la impresión de que Moody Woman, que venía tercera, podría estar involucrada para el primer lugar con la atropellada que traía, pero no fue así. Liscolvin cedió posiciones y se rindió. Swayin to and Fro pasó los 1,200 metros en 1:10.47, y Monterrey sobre ella la impulsó fuertemente para mantenerla en el primer lugar ganando en tiempo de 1:23.45 sobre Fille d'Esprit, que atacó duro para terminar aproximadamente a medio cuerpo. En el tercer lugar llegó Moody Woman, una outsider de 50 a 1 y la superfecta la completó la favorita Pass the Champagne, que pagó caro el esfuerzo inicial y no pudo estar en la pelea por la punta.
Swayin to and Fro es una hija de Straight Talking en Jungle Lady por Warrior's Reward, criada por Franklin G. Smith Senior en el estado de Carolina del Sur. Es el primer clásico de grado que gana. Pagó $14.40 a Ganador, $5.20 el Placé y $4.00 el Show. Fille d'Esprit devolvió $3.80 y $3.00 mientras que el Show de Moody Woman fue de $7.40.