La trayectoria Grado 1 de Irad Ortiz Jr.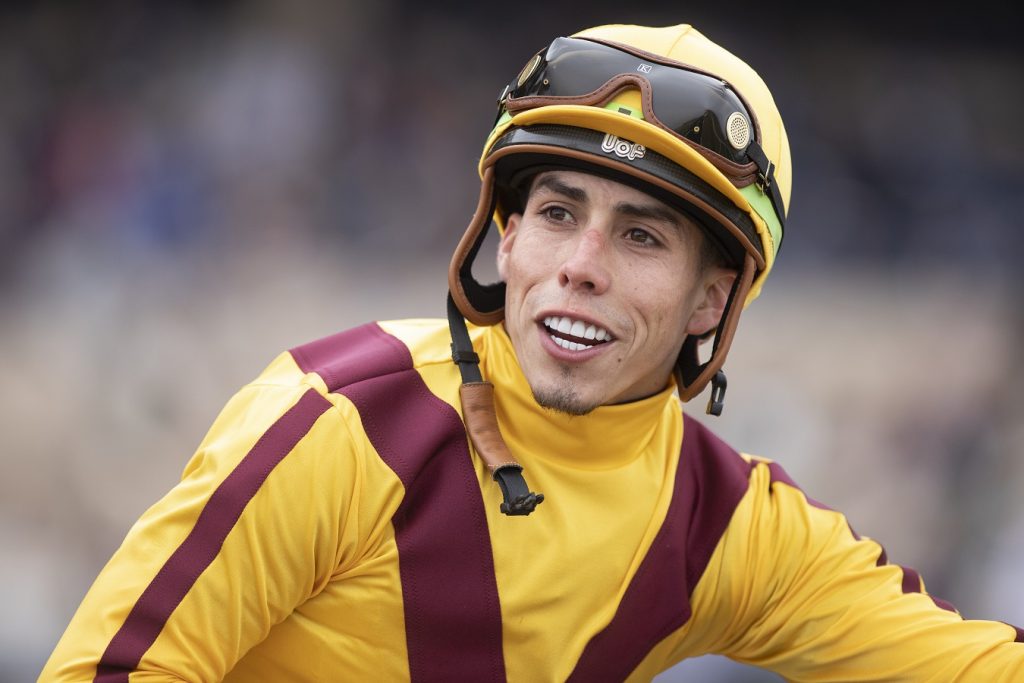 El estelar jinete boricua Irad Ortiz Jr. ha tenido una temporada 2023 llena de éxitos que permite asegurar que obtendrá su quinto Eclipse Award (obtuvo este galardón en 2018, 2019, 2020 y 2022). En cada una de esas temporadas, el orgullo de Trujillo Alto ha culminado como el mayor ganador de carreras y el mayor productor de dinero, situación que se repetirá en 2023. Por si esto fuera poco, al momento de redactar estas líneas es inminente que Irad supere su propio récord de producción para una temporada, impuesto el año pasado. Puede afirmarse entonces que, de existir una clasificación, la trayectoria de Irad Ortiz Jr. en Norteamérica es sin duda Grado 1.
Precisamente esta entrega se enfoca en los triunfos Grado 1 del jinete de 31 años de edad entre 2021 y 2023. Llama la atención que Irad ha logrado -hasta la fecha- un total de 45 selectivas Grado 1 en dicho periodo, más que cualquier otro jinete con campaña en Norteamérica. Su más cercano perseguidor en este sentido es el francés Flavien Prat, ganador de 36. En 2021, Irad obtuvo 10 victorias, tres de ellas con la inolvidable Letruska (Spinster, Personal Ensign, Apple Blossom), y dos con el tordillo Colonel Liam (Pegasus World Cup Turf, Turf Classic). A eso se le suman el Maker's Mark Mile (Raging Bull), el Carter Handicap (Mischevious Alex), el Florida Derby (Known Agenda) y dos triunfos en la Breeders' Cup con Golden Pal (Turf Sprint) y Life Is Good (Dirt Mile).
::: Duplica tu primer depósito de $250 + $10 de bono al abrir tu cuenta como nuevo cliente en DRF Bets utilizando el código DRFESPANOL. Haz clic en este enlace para mayor información :::
En 2022, Irad Ortiz Jr. duplicó el número de triunfos Grado 1, alcanzando un total de 20, casi la quinta parte de los 105 G1 disputados. Tres fueron a bordo de Nest (Ashland, Alabama, CCA Oaks), tres con Life Is Good (Pegasus World Cup, Whitney, Woodward), tres con el campeón dosañero Forte (Hopeful, Breeders' Futurity, BC Juvenile), y dos con la campeona Goodnight Olive (Ballerina, BC Filly & Mare Sprint). Además se impuso en el Belmont (Mo Donegal), repitió en la Pegasus World Cup Turf (Colonel Liam), ganó la Turf Mile (Annapolis), el New York (Bleecker Street), las Belmont Oaks (McKulick), la Shoemaker Mile (Count Again), el Frizette (Chocolate Gelato), la Hollywood Gold Cup (There Goes Harvard) y la BC Sprint (Elite Power).
Este año ha sido fructífero para Irad en lo que a selectivas Grado 1 se refiere, con 15 victorias hasta la fecha -faltan por disputarse cinco G1 este año. Dos han sido conduciendo a White Abarrio (Whitney, BC Classic), dos con el campeón Elite Power (A.G. Vanderbilt, BC Sprint), dos con Goodnight Olive (Madison, BC Filly & Mare Sprint), dos con Up to the Mark (Manhattan, Turf Classic), y dos con In Italian (Jenny Wiley, Just a Game). Las otras cinco fueron a bordo de Atone (Pegasus World Cup Turf), Red Knight (Man o' War), One In Vermillion (H. Allen Jerkens), Brightwork (Spinaway), y Forte (Florida Derby).
Irad Ortiz Jr. es indudablemente el jinete con más logros en la última década. Sin embargo, está consciente de que tiene una meta fundamental por alcanzar: el Kentucky Derby, una carrera que le ha resultado esquiva, pero que probablemente no será lejana.
::: Disfruta todos los días de la promoción que te ofrece el Daily Racing Form, y recibe gratis un programa de carreras con la compra de otra programación de ese mismo día :::