Exaulted ganó en gran forma la Shoemaker Mile G1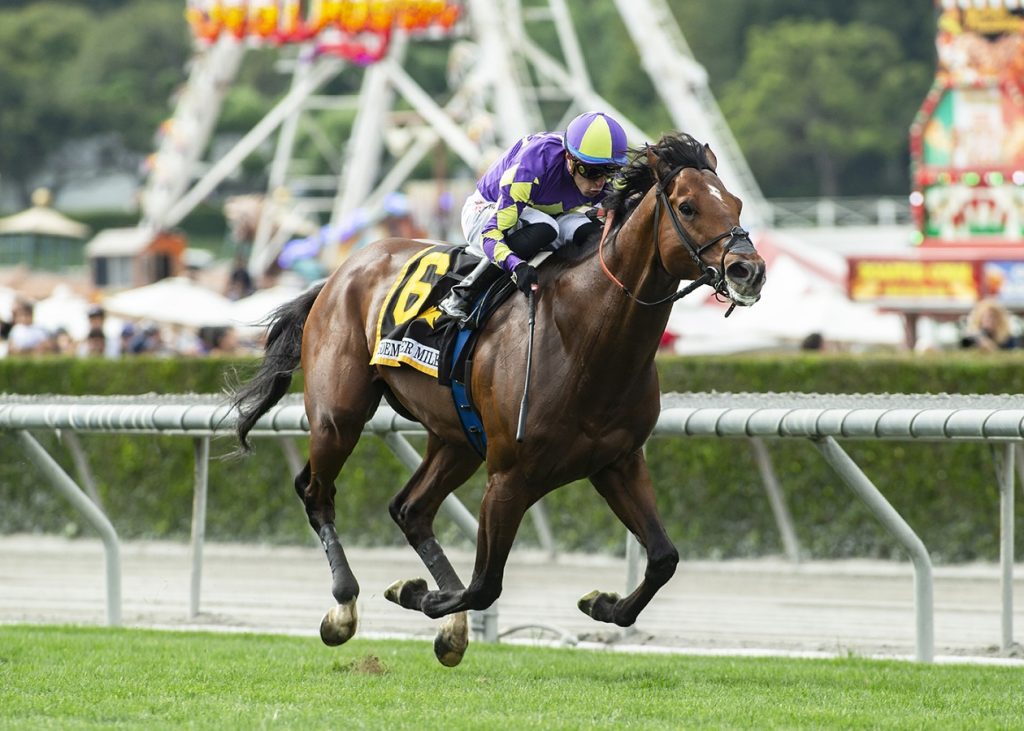 Un cambio de superficie definitivamente puede marcar la diferencia. Este es sin duda el caso de Exaulted (Twirling Candy), que mantuvo su invicto en la grama al imponerse con autoridad en la Shoemaker Mile (G1T, $500,000), una competencia de una milla para ejemplares de tres o más años que al formar parte del programa "Win and You're In" de Breeders' Cup garantiza en este caso un cupo para el vencedor en la Breeders' Cup Mile G1T, que se disputará este año precisamente en Santa Anita Park. El estelar Juan Hernández fue el encargado de llevar nuevamente al triunfo al pupilo de Peter Eurton, que cerró con proporción de 3-1 en la taquilla.
Once caballos tomaron parte de la prueba. Con velocidad, Lamplighter Jack (Fed Biz) salió a marcar los primeros parciales, seguido a distancia prudente por Flavius (War Front) y el eventual ganador, que era pacientemente guiado por su jinete. Il Bellator (Shackleford) y Cabo Spirit (Pioneerof the Nile) corrían a la expectativa, superando a Gold Phoenix (Ire) (Belardo (Ire)) y a Du Jour (Temple City), mientras que el favorito Hong Kong Harry (Ire) (Es Que Love (Ire)) hacía su acostumbrada carrera desde el fondo del pelotón. El puntero dejó 22.88 y 46.10, un ritmo de carrera que a la postre le pasaría factura.
::: Duplica tu primer depósito de $250 + $10 de bono al abrir tu cuenta como nuevo cliente en DRF Bets utilizando el código DRFESPANOL. Haz clic en este enlace para mayor información :::
La ventaja inicial de Lamplighter Jack se redujo drásticamente, abandonando la vanguardia luego de registrar 1:10.09 para los seis furlongs. Esto puso casi inmediatamente a Exaulted en la punta, su jinete aún sin exigirle su máximo esfuerzo. Hernández se percató de que los rematadores se acercaban peligrosamente y fue entonces cuando llamó a correr a su cabalgadura. Por tercera línea se asomó Irideo (Arg) (Easing Along) mientras que Hong Kong Harry ensayó su típico remate, aunque en esta ocasión no tuvo la efectividad esperada. Exaulted se mantuvo al frente, neutralizando a sus repentinos enemigos y superando a Irideo por medio cuerpo. Hong Kong Harry tuvo que conformarse con el tercer puesto, al tiempo que Il Bellator cumplió con un buen cuarto lugar, por delante de Cabo Spirit. El tiempo final para la milla fue de 1:34.08.
Así las cosas, Exaulted obtuvo su quinta victoria en quince salidas a la pista. Ha pasado de ser un ganador de un Maiden Special Weight a convertirse en un ganador Grado 1, gracias al exitoso cambio de superficie al que hicimos referencia. El nieto materno de Gilded Time elevó sus haberes a $603,660, defendiendo las conocidas sedas de C R K Stable, LLC.
::: Disfruta todos los días de la promoción que te ofrece el Daily Racing Form, y recibe gratis un programa de carreras con la compra de otra programación de ese mismo día :::