Big Data en tenaz remate gana el Super Derby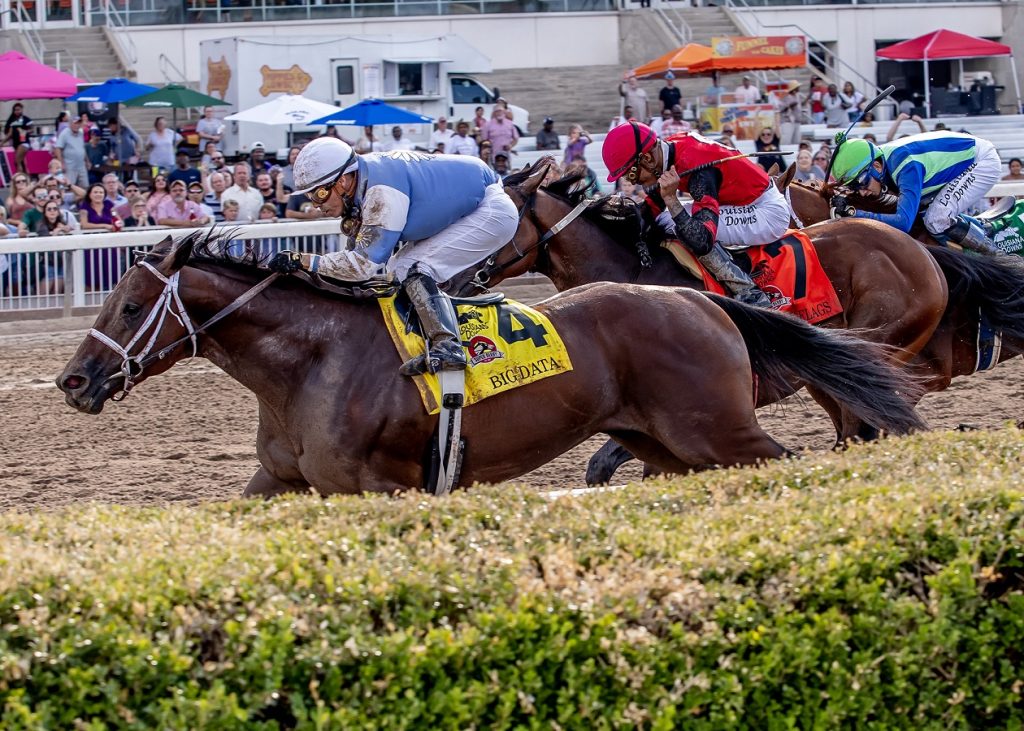 Big Data (Cloud Computing en Moxie, por Creative Cause), muy bien llevado por su entrenador Michael Lerman, hizo su debut en eventos de Stakes en forma exitosa llevándose el Super Derby ($200,000), tradicional carrera para la generación tresañera que ofrece el hipódromo de Louisiana Downs. El conducido por Emisael Jaramillo, de campaña previa desarrollada exclusivamente en Gulfstream Park, rebasó en los metros decisivos a un valiente potro local, No White Flags (Union Rags), que se había apoderado del liderato en la recta pero que finalmente no pudo sostener el avance de un persistente Big Data.
Machine Gun Man (Mor Spirit) rápidamente asumió el mando de la competencia con Tiz Donegal (Tiznow) a su costado derecho. Promise Me a Ride (Mastery), pupilo de Brad Cox que cerró con el principal favoritismo (9-5) había buscado el tercer puesto y quedó prontamente sin opciones ya que Donegal Arrow (Arrogate) lo cargó violentamente hacia afuera en el giro de la primera curva. No White Flags, Big Data (Cloud Computing) y How Did He Do That (Good Magic), aprovecharon esa situación para ubicarse en la mitad del pelotón a medida que se dirigían a la recta opuesta. Eran siete potros en acción recorriendo 1 1/8 millas. El primer parcial fue de 23.80.
::: Duplica tu primer depósito de $250 + $10 de bono al abrir tu cuenta como nuevo cliente en DRF Bets utilizando el código DRFESPANOL. Haz clic en este enlace para mayor información :::
La carrera en la recta de las estrategias no sostuvo muchos movimientos en las primeras posiciones habida cuenta que Machine Gun Man continuó señalando el camino con parciales de 48.71 (1/2 milla) y 1:13.41 (6 furlongs) con Tiz Donegal y No White Flags, segundo y tercero respectivamente; How Did He Do That corría cuarto en posición de ataque y Big Data quinto pegado a los palos, ahorrando terreno y con un paciente Emisael Jaramillo esperando el momento y espacio preciso para correr en firme. En el giro del último codo No White Flags fue movido por su jinete por tercera línea e igualó la línea de Machine Gun Man para distanciarse por unos 2 1/2 cuerpos del resto.
En la recta final No White Flags finalmente abría clara diferencia en el primer lugar sobre un agotado Machine Gun Man, mientras que How Did He Do That, carente del empuje necesario, terciaba por el centro de la pista; Big Data con mucho tesón, seguía acercándose por la parte interna hasta que a falta de unas 60 yardas finalmente daba cuenta del puntero que fue el responsable del parcial de 1:38.61 para la milla. Big Data cruzó el espejo con 3/4 de cuerpo de ventaja sobre No White Flags en 1:51.83. How Did He Do That a 1 1/2 cuerpos completó la trifecta; Machine Gun Man la superfecta. Promise Me a Ride tras un desastroso recorrido marcado por el tropiezo del primer codo, no pudo pasar del sexto lugar.
Big Data tenía campaña 2-4-0 en 7 intentos, todos en Gulfstream Park. Pese a no haber competido previamente en carreras selectivas, se había medido ante ganadores de grado como Lord Miles, Il Miracolo y Kingsbarns. Criado en Kentucky por Kim Boulmetis y propiedad del Petal Power Racing Stable, ahora sus ganancias potenciadas por su trío de victorias, son $213,680.
::: Disfruta todos los días de la promoción que te ofrece el Daily Racing Form, y recibe gratis un programa de carreras con la compra de otra programación de ese mismo día :::