Prince of Monaco aumenta la marca de Baffert en el Del Mar Futurity G1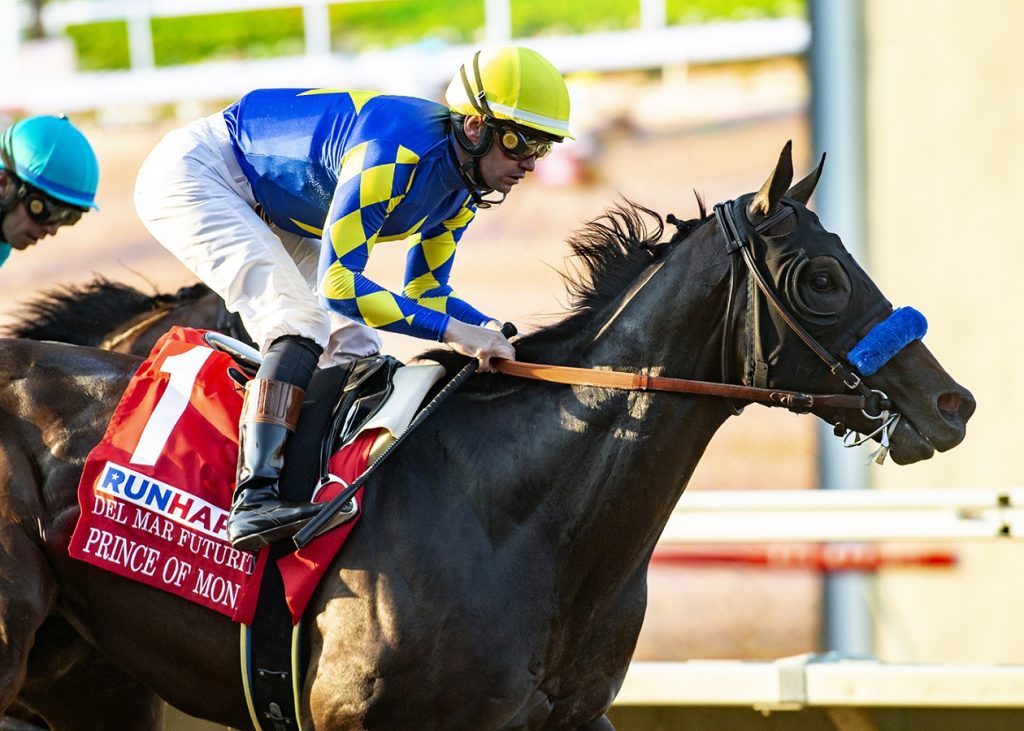 Prince of Monaco (Speightstown en Rainier por Medaglia d'Oro) mantuvo su invicto en tres salidas en el marco del Del Mar Futurity G1 de $300,000, último evento selectivo del meeting veraniego del óvalo californiano que cerró con éxito este domingo 10 de septiembre. Seis potros de dos años se dieron cita en distancia de 7 furlongs.
Prince of Monaco salió bien del gate al igual que su compañero Mirahmadi (Into Mischief), un maiden de su mismo establo; este último se apoderó de la delantera e impuso un tren de carrera ciertamente rápido y pese a ello, vendió a alto precio la derrota. La primera media milla se transcurrió en 44.75 (22.18 y 22.57 contados cada 2 furlongs).
::: Duplica tu primer depósito de $250 + $10 de bono al abrir tu cuenta como nuevo cliente en DRF Bets utilizando el código DRFESPANOL. Haz clic en este enlace para mayor información :::
El resto del grupo acompañó a los Baffert Boys a corta distancia; en orden: Raging Torrent (Maximus Mischief), Rothschild (Uncle Mo), Next Level (Vino Rosso) y Mary's Boy Bolt (Bolt d'Oro), cerraban el pelotón a una diferencia menor de 6 cuerpos.
En el giro de la última curva, Prat buscó a la parte externa de Mirahmadi, que había abierto una ventaja de unos dos cuerpos en la recta opuesta a las tribunas, para atacarlo con mayor espacio. El resto de competidores fue una simple comparsa en la recta final.
Prince of Monaco, esta vez posiblemente un poco más exigido de lo esperado por Prat, rebasó al puntero a mediados de la recta final pero sorprendentemente Mirahmadi, que había decepcionado como amplio favorito en sus primeras tres salidas, dignamente seguía luchando por dentro con J.J. Hernández en la silla y regresaba a la pelea pero sin concretamente amenazar la victoria de su compañero; que si bien logró la victoria, ciertamente no lo hizo con la facilidad que se vaticinaba. El tiempo final fue 1:22.65 con remate de 13.32 para el furlong final.
Next Level cerró la trifecta, seguido de Raging Torrent, Mary's Boy Bolt y Rothschild.
Prince of Monaco pagó apenas 10 centavos de ganancia neta por cada 2 dólares de inversión (1/9) y elevó sus ganancias a $327,000. Fue la décimo séptima victoria en esta competencia para el entrenador Bob Baffert -su tercera consecutiva-, mientras que fue el segundo en la cuenta del francés Flavien Prat. Este potro, ahora de 3-3, fue criado en el Stonestreet Farm y fue adquirido por $950,000 por el reconocido sindicato "The Avengers".
::: Disfruta todos los días de la promoción que te ofrece el Daily Racing Form, y recibe gratis un programa de carreras con la compra de otra programación de ese mismo día :::