La San Francisco Mile G3T encabeza jornada de lujo en Golden Gate Fields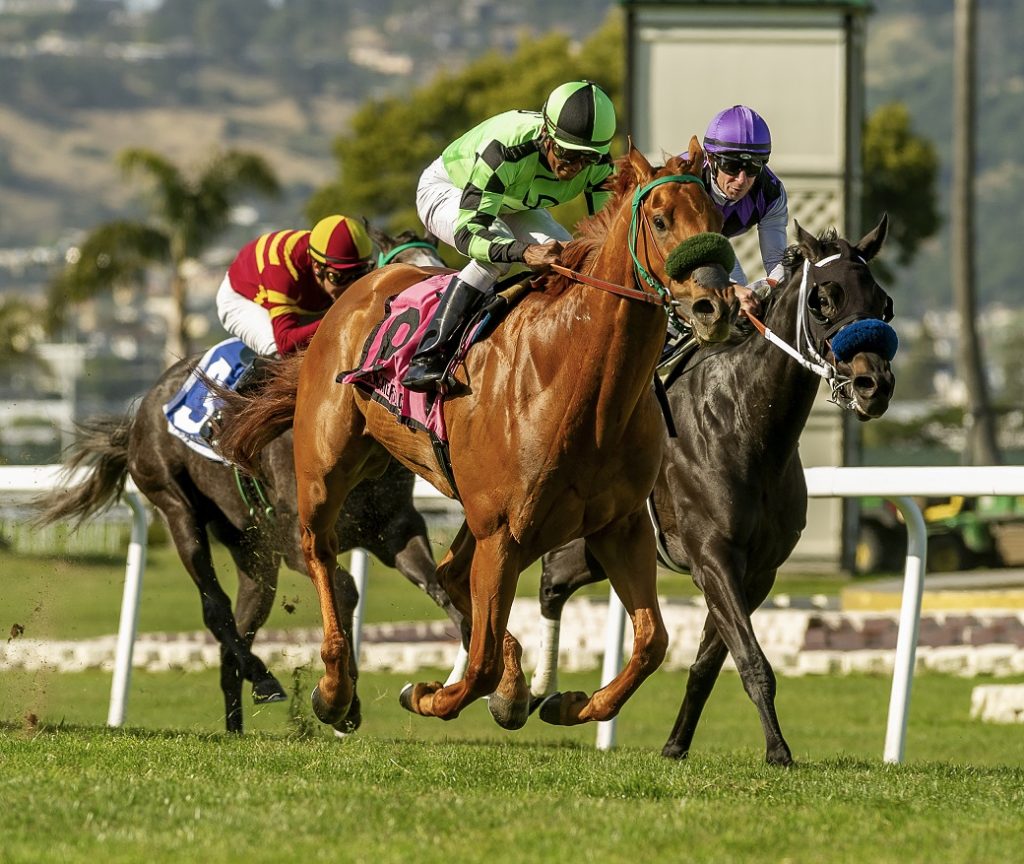 El hipódromo de Golden Gate Fields albergará una nutrida jornada especial de doce competencias este próximo sábado 29 de abril que incluye seis stakes, destacando la San Francisco Mile (G3T, $250,000), carrera más importante de este óvalo ubicado en la bahía de San Francisco (California).
Esta media docena de eventos totalizarán $650,000 a repartir y se desarrollarán para diferentes divisiones y distancias, como en ambas superficies disponibles en Golden Gate Fields, grama y Tapeta.
La San Francisco Mile (G3T, $250,000) será el último pero más importante de los eventos selectivos de la tarde, los cuales se desarrollarán de forma consecutiva a partir de la 6ta de la cartelera. Se correrá en milla -como su nombre lo dice- y para caballos de 3 años o más edad. El ganador de grado Balnikhov (Ire) (Adaay (Ire) / U. Rispoli / P. D'Amato), luego de fallar en la Frank E. Kilroe Mile G1 en Santa Anita intentará retomar la senda ganadora enfrentando a ocho rivales donde surge su hermano paterno, otro ganador de grado, Dicey Mo Chara (GB) (D. Van Dyke / L. Powell).
::: Duplica tu primer depósito de $250 + $10 de bono al abrir tu cuenta como nuevo cliente en DRF Bets utilizando el código DRFESPANOL. Haz clic en este enlace para mayor información :::
La segunda competencia con mejor premiación ($100,000), y que será la antesala del único evento de grado de los seis, es el California Derby para tresañeros sobre la Tapeta y en distancia de 1 1/16 millas (1700 metros aproximadamente). Chase the Chaos (Astern (Aus) / A. Ayuso / E. Moger, Jr.), ganador en febrero de El Camino Real Derby ($100,000), buscará sumar un nuevo éxito listado tras fracasar en el San Felipe S. (G2, $400,000) ante Practical Move (Practical Joke) y compañía en la arena de Santa Anita Park.
La otra carrera abierta para ejemplares de ambos sexos, y con edad de 3 o más, es el Lost In The Fog S. ($75,000) sobre pista sintética y en tiro de 6 furlongs a correrse en la 8va del orden oficial; Lovesick Blues (Grazen / U. Rispoli / S. Miyadi) viaja desde Santa Anita con el objetivo de darle otra victoria selectiva al prestigioso propietario y criador local Nick Alexander.
La otra trilogía de eventos será exclusiva para yeguas, todas por valor global de $75,000 y en orden cronológico serán: las California Oaks (sólo para tresañeras en 1 1/16 millas sobre Tapeta); el Camilla Urso S. (5 furlongs sobre grama) donde destaca la rendidora Alice Marble (Grazen / U. Rispoli / P. D'Amato); y el Golden Poppy S. (1 1/16 millas sobre la grama), en el que resaltan las ganadoras o figuradas selectivas Rose Maddox (Grazen / S. Rivera / S. Miyadi), Nadette (Fr) (Outstrip (GB) / A. Ayuso / N. Drysdale) y Australia Mia (Street Sense / U. Rispoli / M. McCarthy).
La cobertura de DRF en Español incluirá los picks de Evanán Negrón, Ramón Brito «El 30G» y ElPotroRoberto para todos estos eventos de Stakes en Golden Gate Fields.